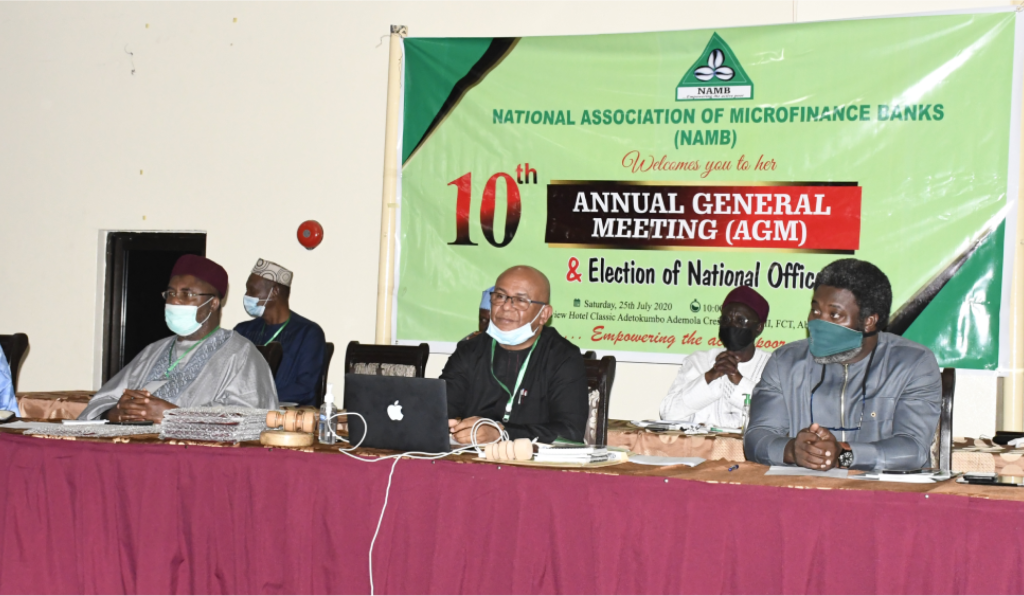 Our Structure
NAMB is structured in a way whereby each organ and the Board of Trustees (BOT) the custodian of the Association to gives advice, direction and support to its constitutional responsibility of promoting a sense of accountability to the Association at all times for instance;
The Annual General Meeting- Which is the highest decision organ of the Association, that meets during Annual General Meeting (AGM) except otherwise. It comprises the Chairmen and Managing Directors of all the licensed Microfinance Banks (MFBs) in Nigeria.
The National Executive Council(NEC) is made up of the elected National Officers plus the Executive Secretary (CEC), Six zonal Chairmen and the 36 State chapter chairmen including FCT, that oversees and executes policies and provides strategic direction of the Association where they meets on quarterly basis and report back to their members accordingly.
iii.       The Central Executive Committee (CEC) consists of elected national officers (National President, 1st National Vice-President, 2,d Vice-President, National Treasurer, National Legal Adviser and the Executive Secretary/CEO as the Administrative Head of the National Secretariat that coordinate the affairs of the Association.
Zonal Structure: This consist of zonal committee in each of the six (6) geopolitical zone of the country made of 5 officers and the state chairmen of the zone where they meet quarterly or otherwise and provide strategic direction to the zone.
The National Secretariat: This is the administrative level of the Association and programme coordinating arm of the Association with an Executive Secretary/CEO that runs the affairs of the Association at all time to meet up the 4 cardinal pillars. The office is located at ARO Plaza, Block AS (B) Herbert Macaulay Way, Wuse Zone 6, Opp. FIRC Office, FCT Abuja.
State Executive Council (SEC), this organ consists of the elected officers within each state including FCT to run the affairs in their various state chapters of the 36 states including FCT.